This last Saturday, my family had gone on somewhat of a food adventure. Looking at these pictures had me realize how food is actually so important to our family. After church, we go out to eat. We go to the mall, we go out to eat. Someone's visiting, we go out to eat. It's like whatever we do, it's always rewarded by some really good food. Come to think of it, everyone's getting ready to get some Pho :).
Anyways, my day started with my favorite Green Tea Frapp and a brownie that I couldn't possibly pass on. But look at these new (I think) pastry packaging. It was such a cute/tasty combination of colors.
After church my family headed over the bridge for some good Pho
@Pho.com
. Most of the places my family takes me are new to me considering they decided to explore other cuisines while I was away for college (
hmpf!
). I got the Wonton Soup and it was delicious. I ordered the small size and I still couldn't finish it.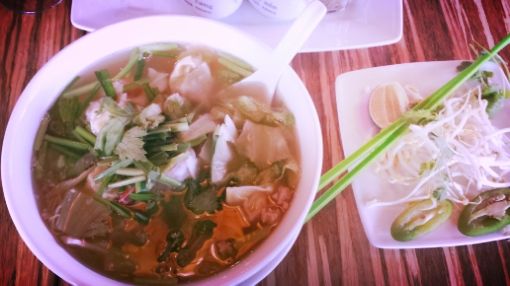 Afterwards, my family for some reason still had room for desserts so we stopped by
Gary's Bakery & Bistro
. While my mom was buying a fresh loaf of bread, I was distracted by the dessert display. It was nearing the end of the day and they only had a few treats left. My brother ended up buying a couple of Tiramisu for later.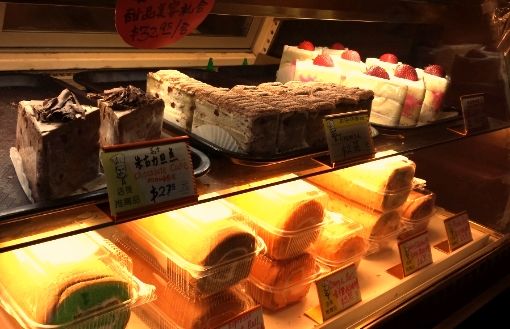 Then my mom mentioned this one place that apparently had the best crepes in town and the next thing I knew, we pull up to
Mojo Crepes
. The first thing I notice is the cute little monkeys on their windows and the Nutella bottles on their wall. I was about to order my crepe when I notice their ice creams and I literally almost lost my head when I noticed they had
Green Tea
as one of the flavors! I was in dessert heaven.
Although I didn't get crepes, I had a few sample from my mom's and brother's strawberry banana crepes. So I didn't really miss out on anything.
The place also had lounge chairs everywhere and a couple of pool tables. My family and I played for a bit and it was fun just hanging out for a change. Overall the place seemed perfect for couples and a sweet spot for hanging out with your friends. I may be back for some green tea ice cream soon.
As I sit here typing out my day, this lovely Tiramisu is being devoured. Thanks bro.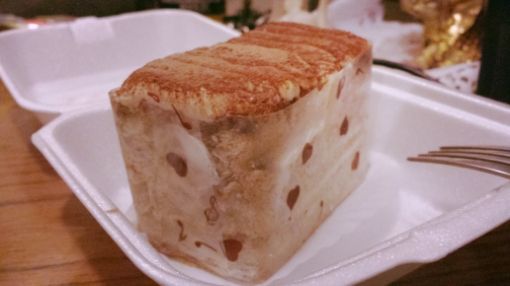 So whenever you're in the northwest, specifically Portland, OR, be sure to check those places out. I'm sure it won't disappoint!